こんにちは!
コンバスのでーちゃんからバトンタッチしました、40期バイオリンのめぐちゃんです!
今回のブログでは先日行われた強化合宿と私の春定への意気込みやフィルへの思いについて書きたいと思います。日本語は得意ではないのでこのあとは母国語の英語で書きます…英語が得意ではない方は英和辞書のご準備を。
Many Japanese university students in Japan use their Golden Week to go on a trip, or perhaps catch up on some school work. Not the members of Waseda University Philharmonic Orchestra. We just got back from our annual retreat that takes place during Golden Week. We escaped the hustle of Tokyo and stayed in the countryside of Niigata Prefecture for 4 days to perfect our program for our concert in June.
For me, this retreat was about realization. I realized again the difficulties of classical music and the hard work that it takes to make a piece come together. From a technical aspect, the pieces that we are practicing cannot be played with a little bit of practice. During this retreat, we spent hours perfecting everything that you could possibly think of perfecting. Being in a place where it's only you, the music and your instrument is something that is pretty special about retreats. I also realized the struggles of being a part of a large community and how hard it is to find your place within the group. One difficulty I have is simply the sheer act of communicating with other orchestra members. There's nothing more frustrating than not being able to convey your thoughts to somebody, and I have experienced plenty of that during my time in Wasephil, but especially during this retreat. Another dilemma that I have is who I should talk to during the retreat. With this orchestra, it's nearly impossible to talk to every single person, but everybody you choose to talk to has something to teach you. But there's also the comfort of being with the people that you're comfortable with, but that doesn't pose any challenges. Since this is my last retreat, I chose to bite the bullet and talk to as many different people as I could, and I think it helped me in the end. All in all, I think that this retreat made me a stronger person and a better player.
This retreat, as with our other retreats, ran on an incredibly strenuous schedule and was physically and mentally demanding. It's probably one of the closest things to hell on earth, because it's one of the few places where you play your instrument for hours on end and sleep very little. But why do we work so hard? I cannot answer for the orchestra, but I'll answer for myself as much as words will permit. I work hard and practice and do the busy work for this orchestra because this orchestra has taught me so much, and it's the only way I can give back. Over the past year and a half, this orchestra has given me my best and worst memories, my highest highs and my lowest lows. Even the most eloquent words cannot describe everything I have gone through. I learned so much about things from technique to Japanese culture to conversing with others. In a community where everybody comes from relatively similar backgrounds and you're the odd one out, there are things that take a lot of getting used to, even after being in the orchestra for a while. But I kept on coming back because orchestras have an incomparable atmosphere that makes you want to go back. The one good thing trumps all of the awful things that happen and makes you want to go to one more rehearsal or participate in one more concert. And as of now, this will be the last time that I am coming back for a while, so I am trying to give this orchestra my all for the last few weeks.
My hard work, along with everybody else's hard work, culminates at our performance on June 4th. Hopefully the overture to Der Freischutz by Weber will make you feel as if you saw the entire opera. Hopefully we will be able to wow you with the simple yet beautiful melodies of Schubert's Unfinished Symphony. Hopefully our rendition of Rimsky-Korsakov's Scheherazade, the sensational symphony that takes you to a land far away, will move you and make you feel things that you have never felt before. In order to make all of that happen, we have been and will continue working hard to make our music the best it can possibly be.  
This is just the tip of the iceberg of my thoughts on Wasephil, but this will do for now.
長くなってしまって大変申し訳ございません…やっぱりフィルについて話すのはどの言語でも難しいかもしれません。次のブログはファゴットのとうこちゃんに書いてもらいます!楽しみにしていてください。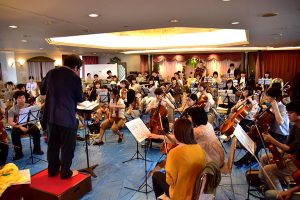 合宿最終日の全曲tuttiの様子
撮影:くにとうひびき様